When I discovered Asian makeup, that's when I got really interested in doing my eye makeup because it's less complicated compared to western makeups. I've always wondered why I always fail at following tutorials on Youtube! When all along, I've been watching the wrong people. I should've thought of finding beauty gurus with the same eye shape/lids like mine! It's the main reason why I got into K-beauty! Lately I've been purposely browsing the web for some eye products because I badly want to learn how to apply eyeshadow beautifully. TBH, I suck at doing my eye makeup and this liquid shadow is definitely ideal for beginners like me!
Product description
A long-wearing sparkling liquid glitter shadow that glides smoothly and glamorously, perfect blend of various sizes of pearl and glitter.
This liquid shadow is packed with shimmers and glitters and it can work even without any other eyeshadow! It claims to be water-based for smooth and dewy application and it didn't disappoint!
This line comes in six (6) colors and I got the shade #5 Beige Harmony because I felt like it's the perfect color for my skin tone. I wanted something not too white and not too gold, something that would be visible but not too much on my eyes and I am so happy that I got the right shade!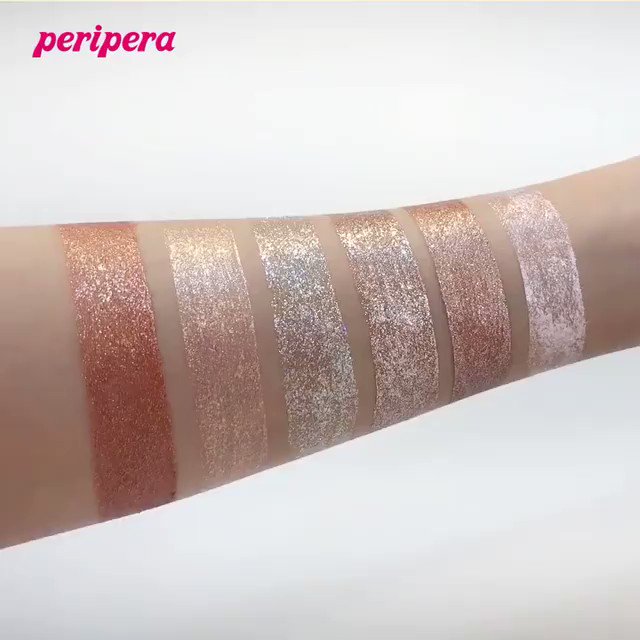 photo from peripera
Packaging
I am obsessed with the packaging of this product! It comes with a pastel pink box! How cute!!! The product itself comes in a transparent acrylic bottle which is great because you'll see the color right away and the cap which the doe-foot applicator is attached to is also pastel pink! Nope, I still can't get over about it! It's very classy and very high quality!
Expiration
Sadly, this product is only good for 6 months! *cries* I wish they'd make it longer!
Like any other liquid shadow in the market, this also comes with a doe-foot applicator!
Application
I've tried applying it on my eye lids once and it glides very smoothly! It's very easy to blend and it doesn't have any fallout! What I even love about this is that a little goes a looooooong way! The micro-glitters gives a very nice effect on the eyes! I love how it gives depth to my eyes with no effort.
Longevity
I'm honestly not yet sure about its longevity because I haven't worn it for a long period of time but I will definitely update you guys when I do!
Scent
I'm so happy that it doesn't have any bothering smell!
Does it dry easily?
Yes but don't worry! It doesn't dry right away so you have time to spread it on your eye lids!
Is it water-proof?
Yes, unless you rub it off.
Where to get them?
I'm not sure if it's available in Club Clio stores yet but you might want to check their stores out! I got mine from @snowpeachmall on Shopee! I swear by that shop! AND DUDE, THEIR PACKAGING IS EVERYTHING. You wouldn't have to worry for broken products because they bubble wrap it + put it in a small box! They even gave me a freebie! *cries* By the way, this post isn't a collaboration and it wasn't sponsored, okay? I'm just really happy with my transaction with them!
Price
I checked the Club Clio website and it retails for $11.00 but I got it for only PHP350.00!
Final Verdict
Isn't it obvious? I love this liquid shadow! I'm planning to get more colors (from the same shop) in the future because they're just really nice and for its price? It's soooooo good! So if you want your makeup to look a little more extra, I suggest you get yourself this glitter eyeshadow! I swear it's worth your moolah!
Important facts about this product:
☑ PIGMENTED
☑ SHIMMER + GLITTER
☑ NO FALLOUTS
☑ AFFORDABLE
☑ BLENDS EASILY
RATING:  ★★★★★
RECOMMENDED: 100% YES
REPURCHASE: 100% YES